Past Exhibition
Live Conservation of Georgia O'Keeffe's Spring, 1948
September 16, 2021 - November 29, 2021
Santa Fe, NM
Plan Your Visit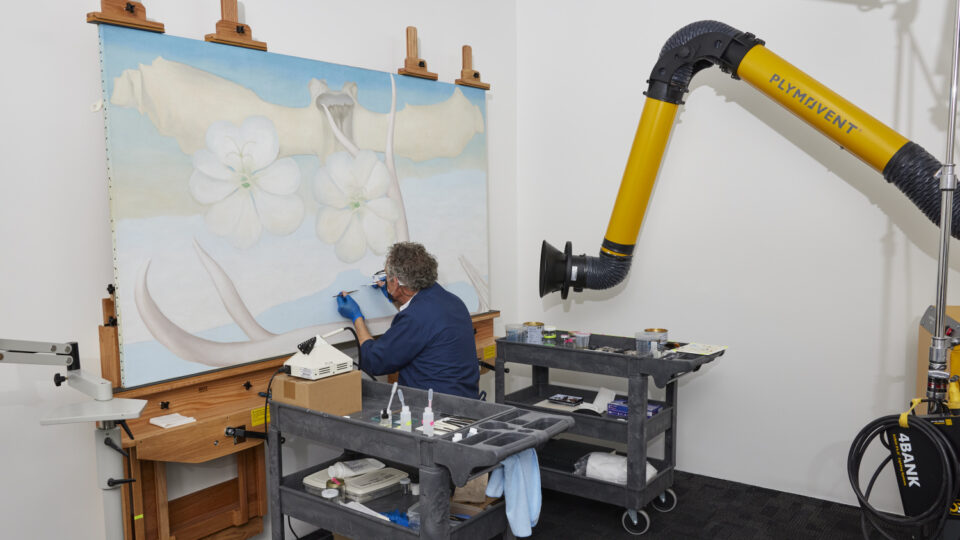 An important part of the work of museums is to care for their collections, including the conservation of objects in order to ensure that future visitors will have the opportunity to enjoy them. For the first time at the O'Keeffe Museum, the science behind the conservation process will be on view for the public. Between Thursday, September 16th and Monday, November 29th visitors can experience the O'Keeffe conservation team at work, and view in-depth information about the conservation of the painting, Spring. Painted in 1948, the creation of Spring marks a turning point in O'Keeffe's personal and artistic life. Spring is one of the few paintings made during the three-year period that the artist suspended her yearly sojourns to New Mexico, staying in New York to settle her husband Alfred Stieglitz's estate following his death in 1946. Although painted during a time when the artist was in New York, the subject is rooted wholly in New Mexico. Measuring approximately four by seven feet, Spring is the largest landscape painted by O'Keeffe up to that date. It combines several of O'Keeffe's most iconic New Mexican subjects. These forms – the primrose, the antlers, the vertebra, and the flat-topped mountain, Cerro Pedernal – all exemplify O'Keeffe's contribution of a regional aesthetic to American Modernism. This curious and ambitious work was a turning point for O'Keeffe – personally and artistically.
Conservation practice includes addressing the changes that happen to objects over time, as well as any damage that might occur in the course of the life of the object, In the case of Spring, the painting sustained water damage from a roof leak in the artist's Abiquiú home. This Fall, conservation of the painting to address this previous damage, as well as layers of varnish that have become discolored over the years.
Funding for the conservation of Spring was generously provided through a grant from the Bank of America Art Conservation Project.