Past Exhibition
Storm Cloud, Lake George
June 27, 2018 - October 28, 2018
Santa Fe, NM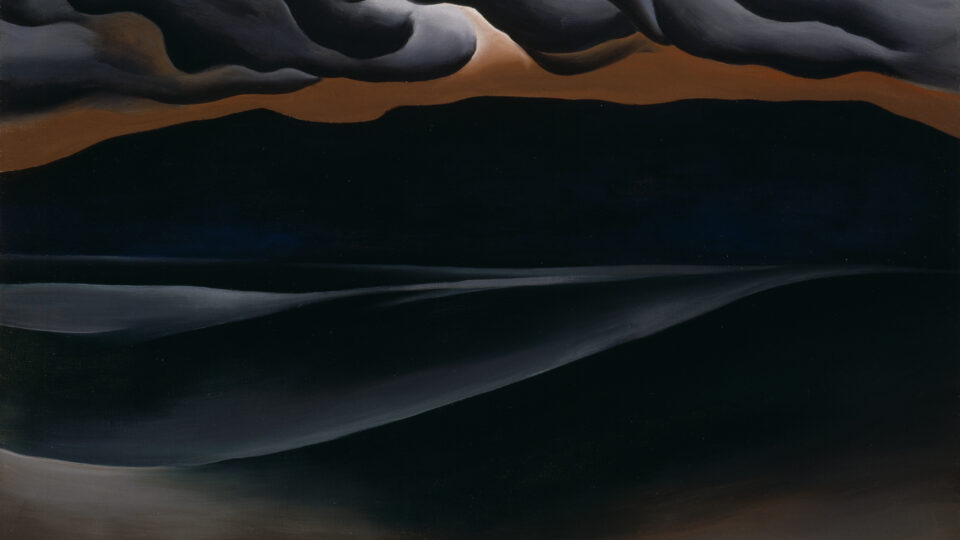 This summer, Museum visitors will have the rare opportunity to see the conservation in progress of Georgia O'Keefe's dramatic 1923 oil painting, Storm Cloud, Lake George. The partially conserved painting is on view in the Museum's galleries, giving audiences a chance to compare the different areas of the work, with and without varnish. It is unusual for museums to present works undergoing conservation. The split-textured Storm Cloud, Lake George is on exhibition June 27 through October 28.
Recent work by the Georgia O'Keeffe Museum's conservation department revealed hidden insight into Storm Cloud, Lake George. Detailed inspection and research determined that the layers of varnish applied to the painting over many years hid O'Keeffe's original work. For years, audiences and experts have assumed the painting represented a stormy night scene at Lake George, New York, where O'Keeffe and her husband Alfred Stieglitz regularly visited his family's estate. Yet current conservation that removes the layers of shiny film reveals that the painting actually depicts an afternoon tempest. The revelation is also notable because researchers believe it to be Georgia O'Keeffe's earliest known use of matte-textured paints.
Please visit our Vimeo page to view more video content from the Georgia O'Keeffe Museum.