Museum Galleries Private Tour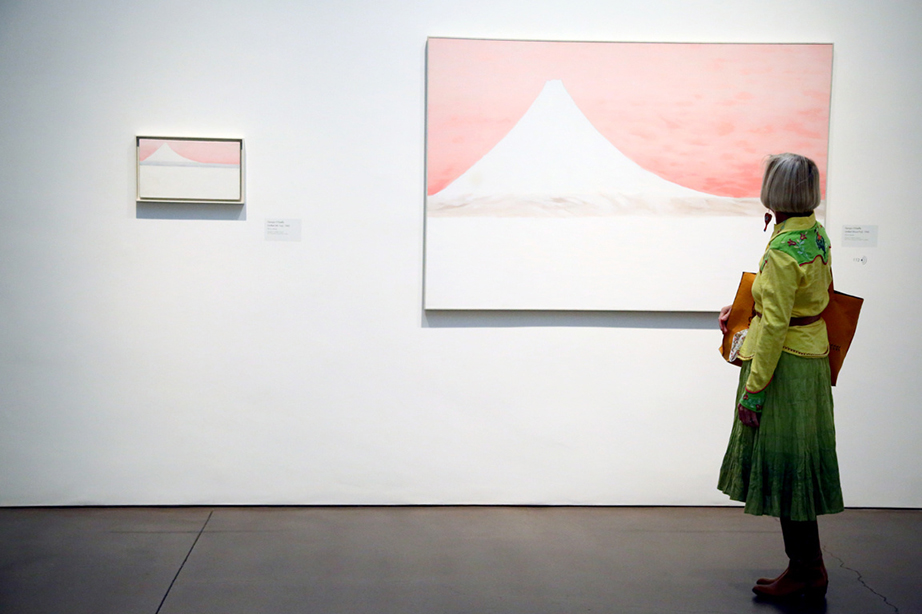 Experience a Private Tour of the Georgia O'Keeffe Museum
Make the most of your visit and request a private tour led by one of our experienced Gallery Guides for exclusive insights and a special Museum experience!  
How it works:
Private tour requests should be made at least three weeks in advance of the requested visit date. Please fill out the form at the bottom of this page.
Private tours during closed public hours (9:00 – 10:00 AM) are priced at $30 per person with a minimum of $360. Your party may be as large as 50 for tours booked during closed public hours.
For afternoon time slots, private tours are priced at a flat fee of $250, limited to 8 or fewer guests per party.
Private tours are currently unavailable on Tuesdays and Wednesdays.
You can request a private tour using the form below. Once your request is submitted, we will review your submission and contact you within three business days.
Tour the Georgia O'Keeffe Museum Michael S. Engl Family Foundation Library and Archive!
Visitors touring the Michael S. Engl Family Foundation Library and Archive will learn about the role of the library and archive and see a variety of displays from the Museum's collections such as Georgia O'Keeffe's personal libraries, archive collections, artist and source materials, and rotating artworks.
Private tours of the Library & Archive can now be added to your GOKM tour experience! Library and Archive tours are limited to a maximum of 8 people. Combined private tours of the Museum galleries and Library and Archive are an additional flat fee of $75.
If you are a group of less than 6 people and would like to request a self-guided tour of the Library & Archive, please visit the appointment request page.
If you are a college-level educational group looking to book a more in-depth tour of the Library & Archive, please contact School and Tour Programs Manager, Grace Almanza, at grace@gokm.org.
For more information on the Library and Archive, please visit us online!
Cancellation Policy
Groups are expected to arrive 10 minutes before their scheduled start time. If your group arrives late, your time may be shortened. If your group arrives 30 minutes after your scheduled time or later, your tour may be canceled. If you are delayed, contact 505.946.1000 and leave a message with the estimated time of arrival.
Cancellations over a week ahead may receive a full refund or be rescheduled, subject to availability.
Cancellations between 1 and 7 days may receive a 50% refund.
Cancellations inside of 24 hours are ineligible for a refund.
Private Tour Request Form