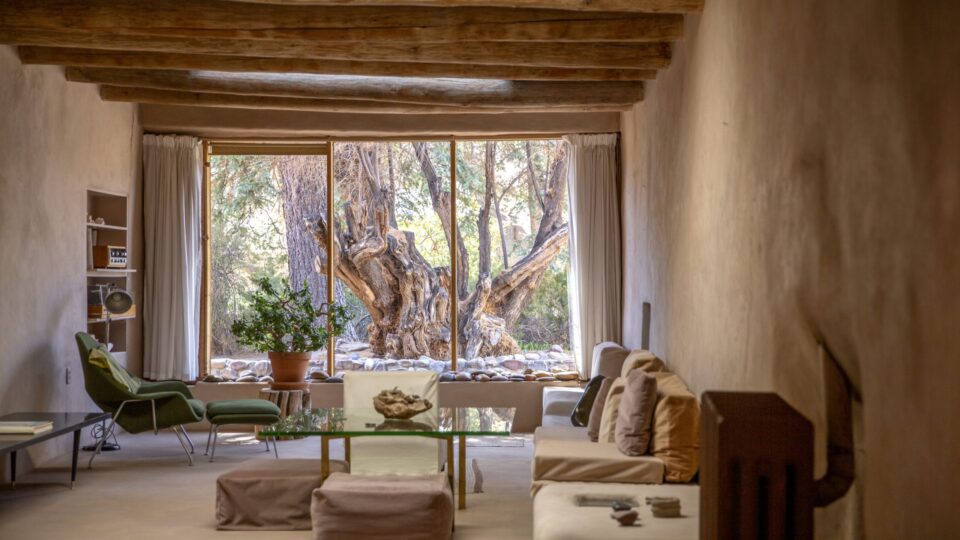 Join Carolyn Kastner, curator emerita of the Georgia O'Keeffe Museum, and discover how Georgia O'Keeffe lived and worked in the two modern homes she crafted from vernacular adobe structures.
Comparing architectural plans with historic photographs shows how O'Keeffe adapted the structures and the interior spaces to fit her artistic practice, as well as how and where she entertained. Kastner will also explore the paintings inspired by the views from the large modern windows O'Keeffe cut into the adobe walls of her homes and studios. Like her artistic practice, O'Keeffe began work on both houses after careful observation, she simplified and refined them over time, and she executed them with the finest materials.
Take a closer look
Books About Georgia O'Keeffe's Houses
Margot TH. Brandlhuber, ed., In the Temple of Self: The Artist's Residence as a Total Work of Art (Munich: Hatje Cantz, 2013).
Barbara Buhler Lynes and Agapita Judy Lopez, Georgia O'Keeffe and Her Houses: Ghost Ranch and Abiquiú, (New York: Harry N. Abrams, 2012).
Barbara Buhler Lynes and Ann Paden, eds., Maria Chabot—Georgia O'Keeffe: Correspondence 1941-1949, (Albuquerque: University of New Mexico Press, 2003).
Alicia Inez Guzmán, Georgia O'Keeffe At Home (London: Frances Lincoln, 2017)
Lesley Poling-Kempes, Ghost Ranch (Tucson: University of Arizona Press, 2005).
Links on the Georgia O'Keeffe Museum Website
—
Carolyn Kastner is curator emerita of the Georgia O'Keeffe Museum in Santa Fe, New Mexico, where her research, publications, and curatorial projects were focused on the diversity of American modernism. During her tenure at the O'Keeffe Museum, she organized many exhibitions, including: Jaune Quick-to-See Smith: An American Modernist (2012), Miguel Covarrubias: Drawing a Cosmopolitan Line (2014), and Georgia O'Keeffe's Watercolors: 1916-1918 (2016). Most recently she curated an exhibition entitled Gesture: The Figure After Abstraction for the Manetti Shrem Museum in Davis, California. She is currently working on an essay "The Practice of Seeing Abstractly," to be published in a book focused on Georgia O'Keeffe's years at the University of Virginia. Prior to her move to Santa Fe, Kastner lived in San Francisco where she was an independent curator and taught art history at the California College of the Arts. She earned her Ph.D. in American Art History at Stanford University.
Lecture recorded January 6, 2021 as part of the Mornings with O'Keeffe series.