Past Exhibition
Miguel Covarrubias: Drawing a Cosmopolitan Line
September 27, 2014 - January 18, 2015
Santa Fe, NM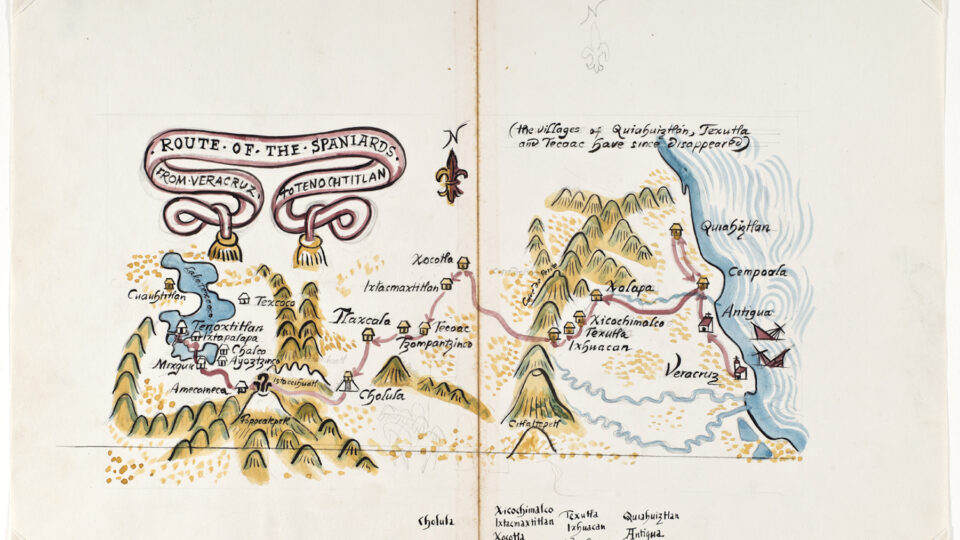 Miguel Covarrubias: Drawing a Cosmopolitan Line presents artwork that links Covarrubias' commercial art, scholarly publications, and studio practice, to demonstrate the cosmopolitan modernism of his life and work, which were deeply influenced by his life-long practice of moving between modern cities and sites remote from New York or Mexico City. It reveals his influential role as part of a global network of modernists, including Georgia O'Keeffe.
The friendship between Miguel Covarrubias (1904-1957) and Georgia O'Keeffe (1887-1986) began in 1929 when both were guests at the home of Mabel Dodge Luhan in Taos, among a gathering of modernist artists and writers.  Though O'Keeffe was a generation older than Covarrubias, they shared many professional as well as social experiences.  Both O'Keeffe and Covarrubias were part of an international, intergenerational cluster of artists in New York City during the 1920s and 1930s, a group that formed the cornerstone of the emergent modernist aesthetic. Thus, their relationship is an enormously productive place to analyze the significance of the avant-garde circles of modernism, where their careers flourished as well as their friendship.
Although Covarrubias is best known for his lively caricatures of famous figures, which will be included in this exhibition, the primary purpose of Miguel Covarrubias: Drawing a Cosmopolitan Line is to define the breadth and significance of Covarrubias' contribution to the history of modern art. The exhibition brings together a selection of this prolific artist's modernist drawings, watercolors, oil paintings, and illustrations from his own scholarly publications. He distilled the diversity of his experiences through the artistic force of his line-drawings, which in-turn express his modern individuality as an artist.
During the 1930s and 1940s, Covarrubias focused his passion on traveling to research several publications supported by Guggenheim Fellowships; The Island of Bali (1937), Mexico South: The Isthmus of Tehuantepec (1946), and The Eagle, the Jaguar and the Serpent. Indian Art of the Americas: North America, Alaska, Canada and the United States (1954).  Covarrubias' distinctive abstract and interpretative line-drawings brought his modernist aesthetic to each book he researched and wrote.
Covarrubias was widely recognized as an energizing force who shared new ideas everywhere he traveled. In New York during the 1940s, Covarrubias worked with Alfred Barr and Rene d'Harnoncourt at MoMA, to create a series of ground-breaking exhibitions of the arts of the Americas:  Twenty Centuries of Mexican Art (1940) and American Indian Art of the United States (1941), the latter of which was shown in Mexico in 1945. Returning to Mexico City, he introduced MOMA's modern installation and lighting techniques as curator for exhibitions at the National Museum of Anthropology.  His curatorial efforts in New York and Mexico City brought indigenous arts into the global discourse of modernism by presenting them as objects worthy of aesthetic comparison with modern art.
A catalogue accompanies the exhibition with an introductory essay by exhibition curator Carolyn Kastner.  Janet C. Berlo 's essay analyzes Covarrubias' substantial scholarship on the indigenous art of North America. An essay by Khristaan D. Villela describes Covarrubias' contribution to Pre-Columbian studies, with special reference to how his research was assimilated by other Modernists and influenced modern art exhibitions. Alicia Guzman's essay discusses how the 1939 mural maps, painted by Covarrubias for the San Francisco World's Fair, are modern hybrids of abstracted geographic features populated with a diversity of caricatures: human, animal, cultural and economic.
This exhibition and related programming were made possible in part by generous grants from The Burnett Foundation and The Hearst Foundations. Additional support was provided by The Ministry of Foreign Affairs through the Consulate of Mexico in Albuquerque, Linda Marcus, New Mexico Arts, a division of the Department of Cultural Affairs and the National Endowment for the Arts, the Santa Fe Arts Commission and the 1% Lodgers' Tax.