Past Exhibition
Georgia O'Keeffe and Ansel Adams: The Hawai'i Pictures
February 7, 2014 - September 17, 2014
Santa Fe, NM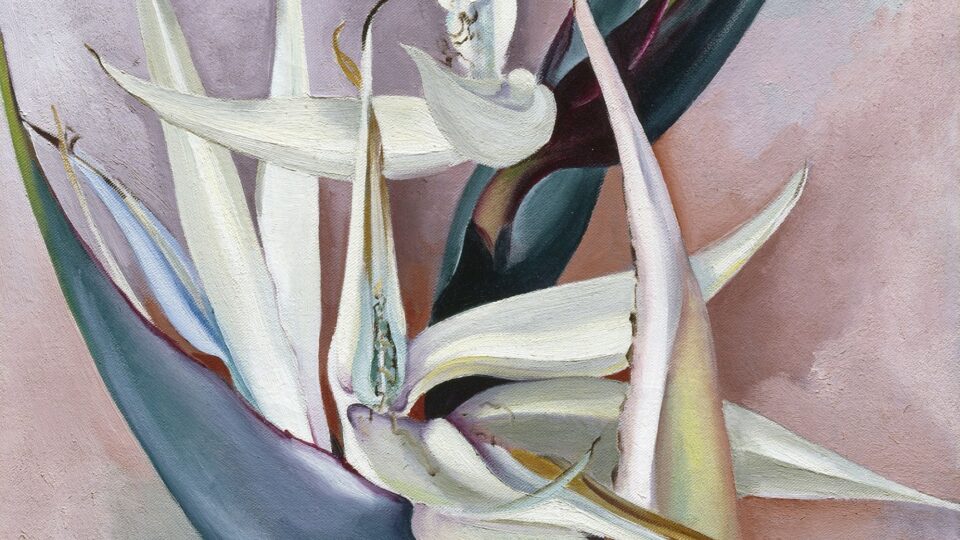 This exhibition is the first to feature the artwork created in Hawai'i by Georgia O'Keeffe and Ansel Adams. These two friends and American modernists are famously associated with the extraordinary places that inspired them; though both visited Hawai'i at the height of their powers, the work they created there has received little attention. Georgia O'Keeffe and Ansel Adams: The Hawai'i Pictures reveals how profoundly both artists were moved by their personal experiences in Hawai'i. Further, the photographs and paintings included in the exhibition express the islands' unique sense of place, at the same time they reveal the complex continuities with the whole of O'Keeffe and Adams's respective oeuvres.
The exhibition will include fourteen paintings by O'Keeffe created during a 1939 trip to Honolulu and neighbor islands to create illustrations for print advertisements for the Hawaiian Pineapple Company (now the Dole Company). During her two month stay in Hawai'i, she traversed Oahu, Maui, Kauai, and Hawai'i (The Big Island), visiting beaches, rainforests, and pineapple plantations, and painting the dramatic coastlines, volcanic terrain, traditional tools, and exotic flora. She painted dramatic landscapes of coastlines and waterfalls; but most extensively the island flowers: white bird of paradise, heliconia, crab's claw ginger, and bella donna. These artworks reveal O'Keeffe's deeply personal response to the inescapable natural beauty of the islands. The tropical blossoms will resonant with viewers who admire her large-scale flower paintings, but the seascapes and verdant valleys are an unusual subject for the artist better known for her desert landscapes. Yet, these disciplined compositions express her enduring fascination with the formal vocabulary of abstraction.
The exhibition will also include Ansel Adams's photographs of Hawai'i, likewise undertaken on commission, first in 1948 as part of a series on national parks for the Department of the Interior and in 1957 for a commemorative publication for Bishop National Bank of Hawai'i (now First Hawaiian Bank). These extraordinary and often idiosyncratic works reveal how Adams, like O'Keeffe, sought a personal experience, beyond the prevailing stereotypes of Hawai'i, to picture his individual response to the island's natural beauty. Building upon the exhibition Georgia O'Keeffe and Ansel Adams: Natural Affinities, on view at the Georgia O'Keeffe Museum in 2008, this body of work reveals how Adams and O'Keeffe sought to unmask what lay beyond the beaches of Waikiki, to convey their profound and intimate connection to the land.
The exhibition was organized by Theresa Papanikolas, Curator of European and American art at the Honolulu Museum of Art, where it will open on July 18, 2013 and be on view until January 12, 2014.