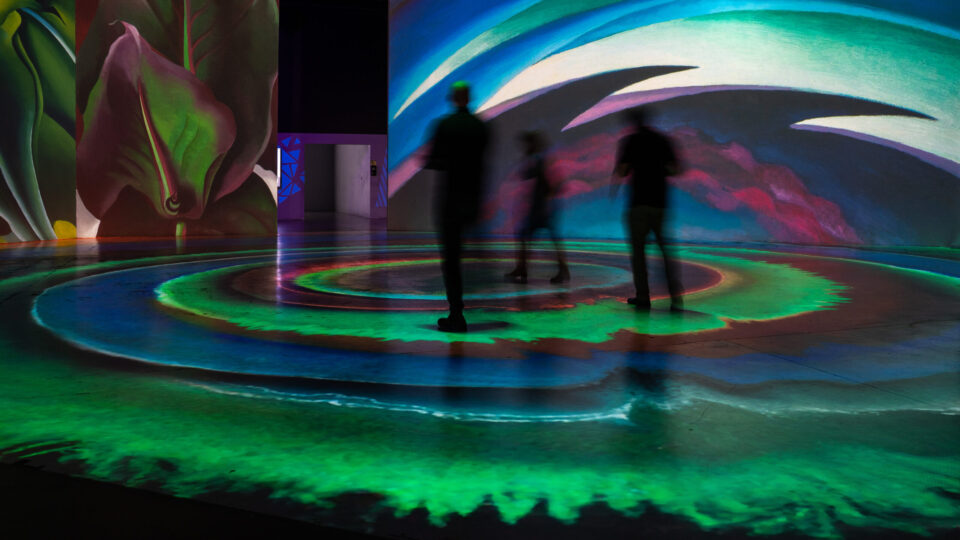 Behind the Scenes at Music for the Eyes: A New Georgia O'Keeffe Experience
Peek behind the scenes of Music for the Eyes, the immersive art experience designed through a collaboration of Albuquerque's Electric Playhouse and the Georgia O'Keeffe Museum. Music for the Eyes leads viewers through O'Keeffe's creative process, diving into the mind and inspirations of one of the world's most iconic and revered artists. Featuring large-scale digital projections, interactive displays and animation of artworks, this limited-run exhibition provides a new way to experience Georgia O'Keeffe's art. Learn about the process of designing this new kind of exhibition from Liz Neely, curator of digital experience at the Georgia O'Keeffe Museum, Brandon Garrett, co-founder and CEO at Electric Playhouse, and Simone Seagle, creative technologist. 
Brandon Garrett is the CEO and Co-Founder of Electric Playhouse, a platform company focused on transforming physical space into immersive and interactive digital space filled with an ever-changing library of games, art and extraordinary experiences. Brandon has over a decade of experience as an Architect and Creative Technologist. Prior to Electric Playhouse, Brandon successfully headed the design technology efforts of New Mexico's largest architectural firm for 15 years where he oversaw and implemented the latest technologies including Building Information Modeling, Building performance analysis, Virtual Reality, Augmented Reality, Digital Experiences, and custom software development. As an industry innovator, he regularly speaks at national conferences and his work and insights have been published in Arch Daily, Autodesk, and NAIOP. Brandon Holds a Master of Architecture degree and is a licensed architect.
Liz Neely is a human-centered digital strategist focused on the formation of engaging experiences for a variety of museum audiences. At the Georgia O'Keeffe Museum, she has led initiatives to connect and publish collections, curated the exhibition Seeing Beyond/Ver más allá, which featured responsive light projections providing viewers a new perspective on Georgia O'Keeffe, and was the co-executive producer of the short film Following Enchantment's Line in collaboration with the Wheelwright Museum. She has held positions at the Art Institute of Chicago, the American Alliance of Museums, and on the board of MCN.
Simone Seagle is an interactive developer for Electric Playhouse. Before starting at Electric Playhouse, she was a freelance software developer specializing in web and educational software development for museum clients such as the National Museum of Nuclear Science and History, the New Mexico Museum of Natural History & Science, the Museum of Boulder, and more. Bringing art to life with software has been a passion of hers for many years and led to her writing an article about the process for the Metropolitan Museum of Art's collections blog. She has more than ten years experience developing entertaining and educational interactive experiences. Simone has a bachelor's degree in physics from the University of Chicago and a Master's in Software-Driven Systems Design from New Mexico Highlands University.