A great alternative for your youth classroom or adult group is a GOKM virtual tour and experience!
Each of our virtual experiences are fun, social, educational, and interactive. Virtual tours are facilitated by live Georgia O'Keeffe Museum educators. Unlike in-person tours, virtual tours offer the unique ability to choose a focus from a number of specific topics, such as Collection Highlights, Rare Photographs, or Historical & Biographical. We welcome groups of all types to participate in a virtual experience!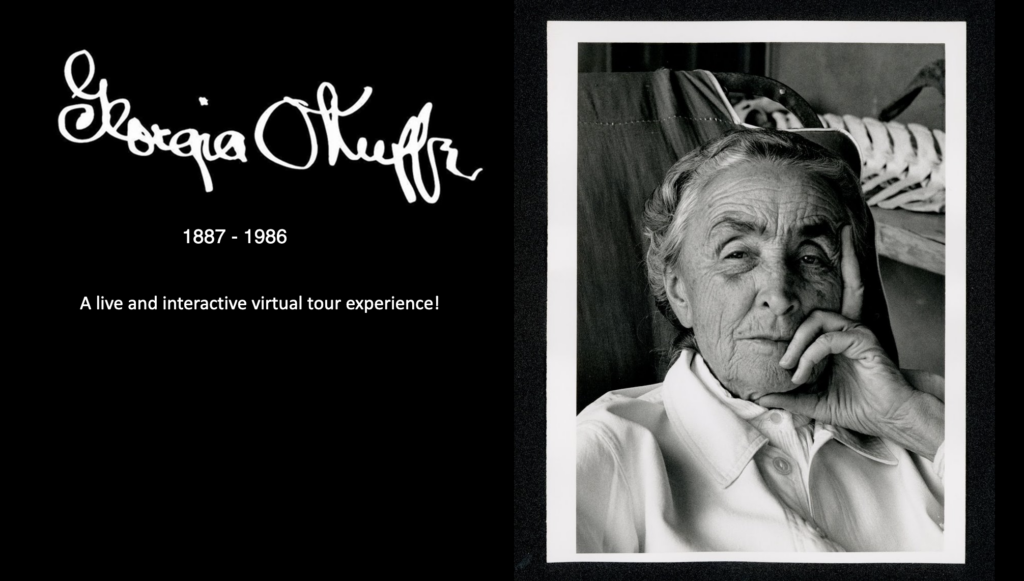 What Types of Virtual Tours are Offered?
Adult Groups – Virtual tour sessions are priced at $100 per session. A session includes an hour-long presentation, plus a 15-minute Q & A at the end.
School Groups K-12 – Virtual tour sessions are free for Santa Fe Public Schools and all New Mexico schools. For K-12 groups outside of New Mexico, virtual tour sessions are priced at $100 per session. A session includes a 30 – 45 minute presentation (depending on the age group) and a 10-minute Q & A or discussion at the end.
Virtual Tour with Art-Making – Free for all SFPS and New Mexico schools, this virtual tour experience includes a 30-minute presentation followed by a 20-minute guided art-making activity. For groups outside of New Mexico, this experience is priced at $100 per session.
I
To register for a virtual tour experience, please fill out the request form below! Due to space limitations, at least 3 weeks advanced registration is required.
Virtual tours are available Monday through Friday from 10:00 AM – 4:00 PM. All times are in the Mountain Time Zone.
Frequently Asked Questions
What platform do you use for virtual tours?
The Georgia O'Keeffe Museum conducts virtual experiences via Zoom. The Zoom link is provided in a confirmation email to the teacher or individual who registered for the virtual experience.
Who are the educators?
Our staff is made up of professional Museum educators, gallery guides, and teaching artists. They know and love Georgia O'Keeffe's art and life.
What is the virtual tour cancellation policy?
The Georgia O'Keeffe Museum requires all group cancellations to be completed in writing via email. Should your group need to cancel or re-schedule a virtual tour, you must send an email to: education@okeeffemuseum.org at least 7 days BEFORE the scheduled date to avoid a cancellation fee. Upon receipt, an email will be sent to you verifying cancellation.
Any group that does not send a cancellation email within 7 days of the scheduled trip date will be charged the full amount invoiced.
For all New Mexico schools, if you run into a conflict and need to re-schedule your virtual visit, please contact us.
For any further questions, please contact education@okeeffemuseum.org.
Virtual Tour Request Form
Georgia O'Keeffe Museum - Virtual Tour Request