The Georgia O'Keeffe Museum Art & Leadership Program
Para la traducción al español, haga clic aquí!
The Georgia O'Keeffe Museum Art & Leadership Program was founded in 1998 to facilitate the development of self-confidence, self-esteem, leadership skills, and self-expression in middle school girls. Today, the Art & Leadership Program is gender inclusive, providing a more diverse, well-rounded, and comprehensive experience to all participants.
The Art & Leadership Program focuses on the exploration of creativity through art-making, theater, music, creative writing, and self-expression.
Participants learn collectively with a focus on independent thinking, building self-esteem, and strengthening self-respect. Professional Museum staff, program leaders, interns, and teaching artists experienced in art education lead the program and serve as role models, offering children an oasis of positive support and encouragement. Together, they can better learn about moving past preconceived notions and growing into young adults that are comfortable and confident in their self-expression.
The program's main initiative is to foster young artists through creativity, leadership skills, self-confidence, self-expression, and identity development.
Special Opportunities within the Art & Leadership Program
Field Trips to Abiquiú & Ghost Ranch: Every session will have the unique opportunity to visit Georgia O'Keeffe's Home & Studio, as well as visit the property that so captivated her upon her first visit to Ghost Ranch in 1934. This field trip offers opportunities for creative exploration and inspiration; participants will have the chance to practice en plein air (out of doors) painting in the Ghost Ranch landscape as well as learn the history of the land through a visit to the Museum of Paleontology.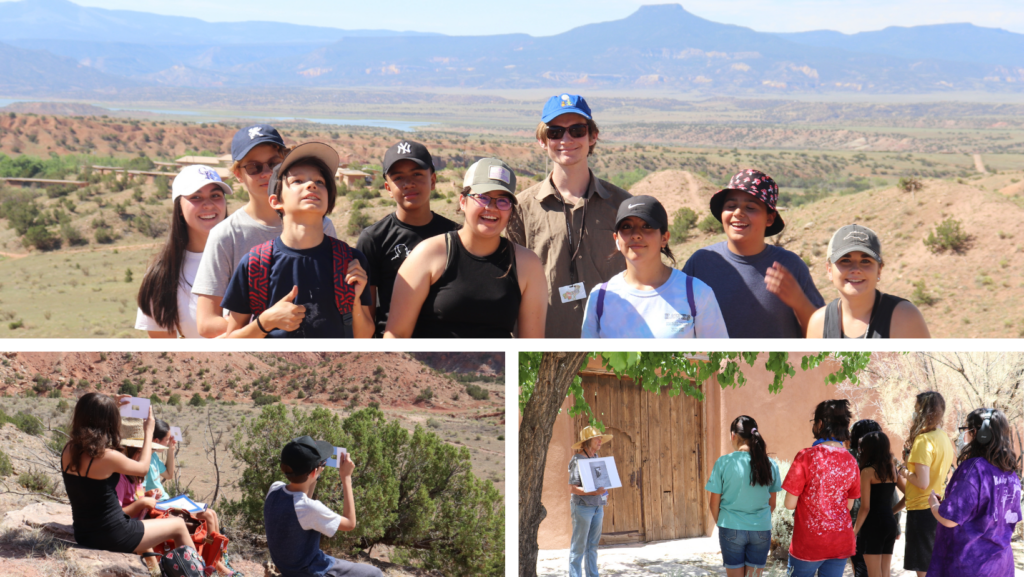 End-of-Summer Art Show: Every year, participants are given the opportunity to exhibit the work they created over the summer in a celebratory end-of-summer art exhibition. Artworks are selected by program staff throughout the sessions to be exhibited for a specific period at the Georgia O'Keeffe Museum Education Annex. Invitations are sent out to all participants, families, and artists. Parents, family, and friends of all participants are welcome at the opening reception honoring their support of the young artists.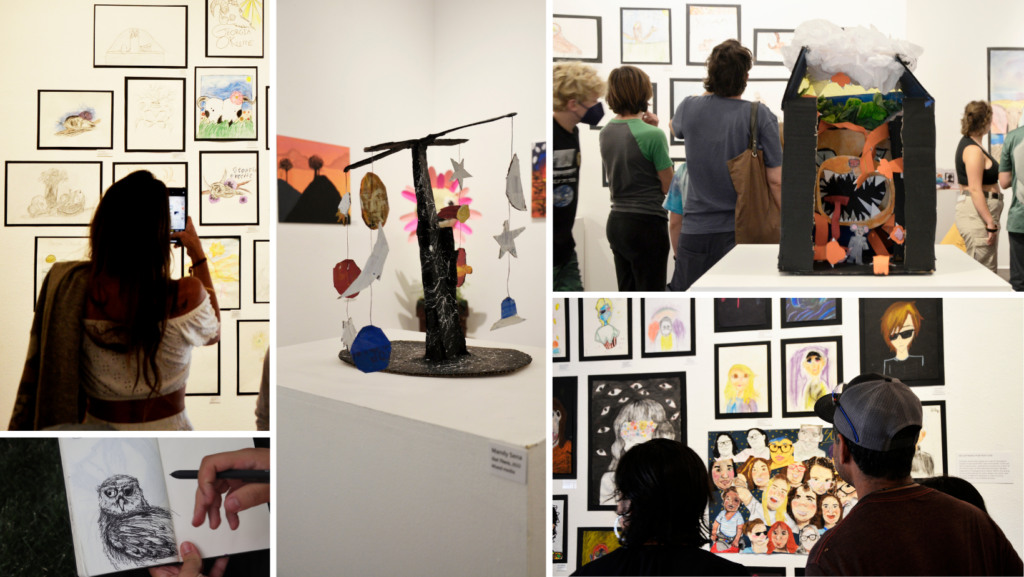 A & L Zine: The A & L Zine Project was started in the summer of 2021. The purpose of the zine is to function as a "yearbook" of activities that occurred during all program sessions. This includes subjects such as teaching artist workshops, art projects, field trips, and creative writing. Participants may submit their work to be featured in the A & L Zine at any point during their session. Every young artist will receive a copy of the Zine to keep as a token of their time in the Art & Leadership Program.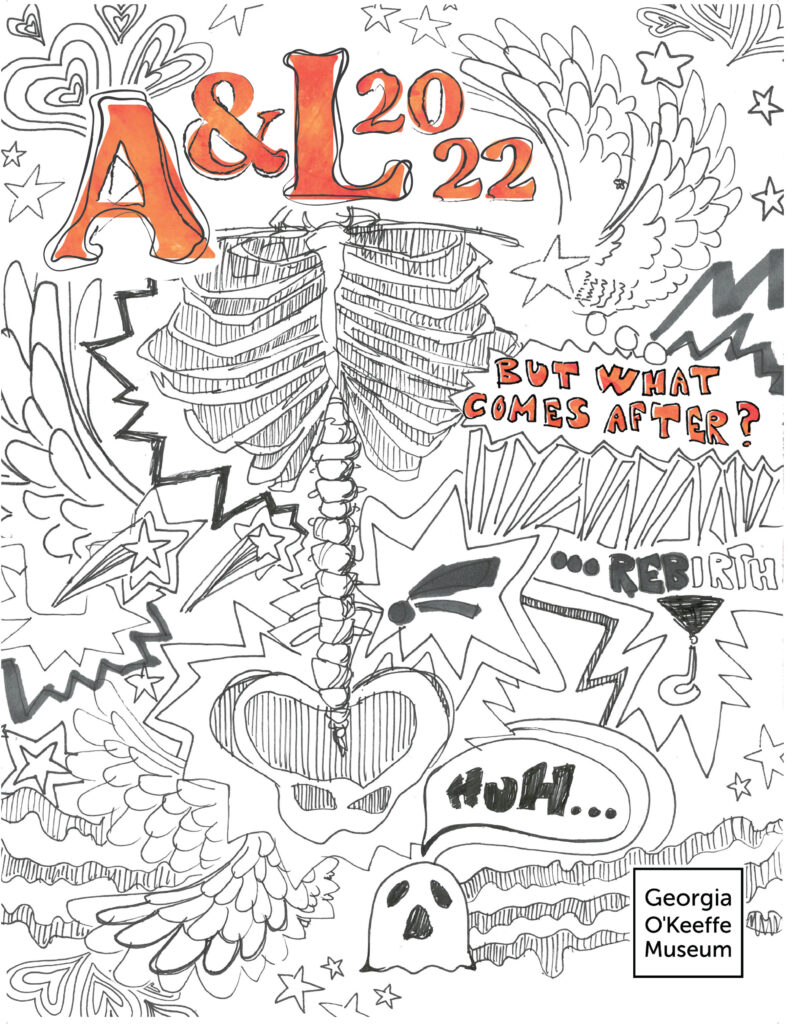 Frequently Asked Questions
What age does my child have to be to participate in the Art & Leadership Program?
The Art & Leadership program is a 3-year summer program that begins in the summer after 5th grade. These students are then invited back to participate in the Art & Leadership Program every summer until they graduate 8th grade. The program was created to target middle school youth specifically, as there was a notable gap in the artistic development of young children between elementary and high school. If you have any questions about the application process, please reach out to ALinfo@gokm.org 
If you are a teacher or educator looking to put in a recommendation for a student, please contact Program Coordinator, Grace Almanza, at grace@gokm.org.
When does the program take place?
The Art & Leadership program runs from June–July, Monday through Friday, from 9:00 am–5:00 pm. There is also an end-of-summer art show hosted every year in the first week of August.
How do I enroll my child in this summer program?
This year, the Georgia O'Keeffe Museum is opening applications to any and all middle school students who are interested in attending the program. Pre-adolescent youth who are interested in art and reside in Santa Fe and the surrounding rural communities are given priority for attendance. Applications for the summer of 2023 open on February 1 and close in early Spring. If your child is accepted into the program, you will be contacted with the information needed to register for summer sessions.
Is there a fee to participate in the program?
There is absolutely no fee for participation. Every student receives a full scholarship for every year they attend. This scholarship covers fees for any and all art supplies, food (breakfast, lunch, and snacks), and field trips.
For any other general questions, please contact the Art & Leadership Program Coordinator at ALinfo@gokm.org
Applications for 2023 Art & Leadership Program are now closed. Applications will be open again to rising 5th graders in February of 2024.
Thank you to our sponsors: The Art & Leadership Program is generously funded by Century Bank, Kappa Delta Foundation, Sheila Fortune Foundation, New Mexico Arts, a division of the Department of Cultural Affairs, and by the National Endowment for the Arts.