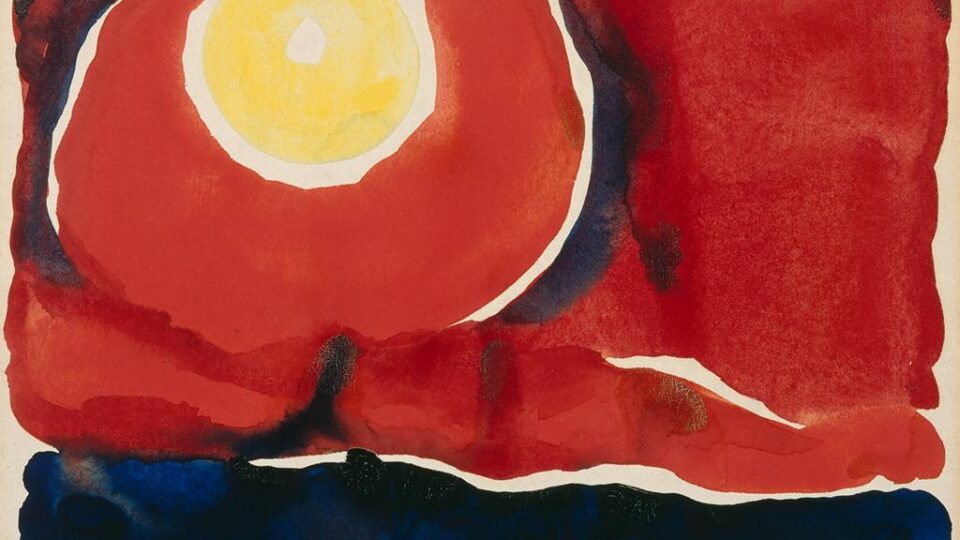 "I found I could say things with colors and shapes that I couldn't say any other way – things I had no words for."
-Georgia O'Keeffe
Our first full week of cataloging at Ghost Ranch is complete (with many more dishes and mugs to go). We are currently in the kitchen, delicately handling Miss O'Keeffe's bowls, coffee makers, and silverware – all of the essentials for any good morning breakfast or good evening dinner.
I am beginning to better understand the operations of cataloging, labeling, and organization. So much so that after the first day of describing kitchen appliances, pitchers, and a large souvenir spoon I went home to make myself dinner. I grabbed a bowl from my cabinet and, without prompt, my brain automatically began describing it:
"small, white, ceramic bowl. slight crack on upper lip. light gray streaks in bottom . . ."
I stopped myself as soon as I realized what I was doing. If I was unintentionally cataloging my own home after one day, what is going to happen after one summer?
As we worked throughout the week, I saw how many terms, words, and accurate titles there are for objects. Let me tell you, I think I will know more ceramic and textile descriptors by the end of this summer than I thought existed. But we must pay attention to the smallest details so that some day, if needed, a person can pick out that white bowl from ten others that might look exactly the same (even though they're not!). Because of this, there are times when our brains pause from the mental vocabulary archives to look at each other and say,
"What's this called, again?" or "What's the word for ____?"
Fortunately, a dictionary and list of proper names are at the ready in case we need to search. These sources hold the words we need if our brains do not.
However, Georgia O'Keeffe's artwork shows that for some experiences, connections, and visions, there are no words. These experiences are abstractions of life that can leave us speechless.
When we pause to glance up from our detailed work and look outside, it is obvious why Georgia O'Keeffe chose art to describe her surroundings. What words come to mind for nature and landscape? What happens when you try to describe the light moving across the mountain you see through the window? Or the striated rocks that have formed over millions of years? Sure, we have words and classifications for some of these shapes and colors, but O'Keeffe's artwork proves that these shapes and colors are infinite, eventually stretching beyond our own letters and terms. That's why O'Keeffe used art as her vocabulary. Barbara Buhler Lynes describes this in Georgia O'Keeffe and New Mexico: A Sense of Place:
"O'Keeffe was one of the first American artists to explore abstraction as a means of expressing personal ideas and feelings. By the mid-1910s, in defiance of her academic training, she turned to abstraction to develop a visual language she felt to be her own." (Lynes 56)
Fortunately, this visual language has traveled through history to communicate with us. O'Keeffe speaks to us through these artistic abstractions by enlarging a flower so that we must confront it face-to-face:
Or by rendering the Black Place many times, because one description isn't enough:
Or using a bone as a lens to frame a space:
O'Keeffe re-creates these landscapes so that we do recognize them, but through her vision. Lynes explains,
". . . in spite of their apparent specificity, O'Keeffe's New Mexico landscapes reveal her lifelong commitment to abstraction" (Lynes 13).
These landscapes were frameworks for O'Keeffe to explore formal devices and experiment with her art, staying faithful to the primary contours as recognizable places, but filling these defining lines with her own visions of the land (Lynes 34). In this way, we can pick out the places O'Keeffe rendered, but we get to see the other layers she added to describe the space through her eyes.
Georgia O'Keeffe's use of shapes, colors, reductions, and abstractions awaken an evolving landscape that was as colorful then as it is now, adding another layer of history to the formations we see today. Now we can look at her work and see how art fills in the blanks for the details we cannot look up, the details we cannot describe.
For a closer look at these colors and shapes, visit the current exhibit:
Georgia O'Keeffe: Line, Color, Composition
on view until September 13!
—
Written by: Liz Brindley, Curatorial Intern
Works Cited:
Lynes, Barbara Buhler, Lesley Poling-Kempes, and Frederick W. Turner. Georgia O'Keeffe and New Mexico: A Sense of Place. Princeton, NJ: Princeton University Press in association with the Georgia O'Keeffe Museum, 2004. Print.
Featured Image:
Georgia O'Keeffe | Evening Star No. VI | 1917 | Watercolor on paper | 8 7/8 x 12 inches | Gift of the Burnett Foundation | Copyright Georgia O'Keeffe Museum